50 Years and Counting
For more than a half-century, Spencer Heating and Air have served the heating and cooling needs of Auburn and the surrounding area. To provide some perspective, in 1968 when we first started, the United States hadn't put a man on the moon yet.
1968 = 747's and Star Trek
Fifty years ago, the first 747 Jumbo Jet made its appearance, Star Trek was still in its original episodes, and Spencer Heating and Air opened its doors for business.
E.L. Spencer Discovered a Need
It might sound cliche, but E.L. Spencer noticed a need in the heating and air conditioning business in Auburn and he decided to fill that need. In the late 1960's, most new homes had central air conditioning, however, most older homes were still using window units if they had any air conditioning at all.
At the time, Auburn did not have a central air conditioning contractor. You could buy window units at a number of stores such as Sears, Western Auto, and other places, but the city of Auburn had no one installing central air systems, at least on a full-time basis.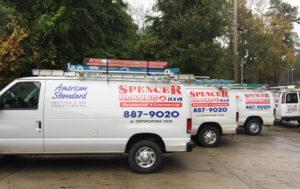 Spencer Heating and Air discovered the need and provided the city of Auburn and the surrounding area with central heat and air systems for existing homes as well as new homes being built in the area.
Fast forward fifty years and Spencer Heating and Air has continued to build its business around the needs of the people of Auburn. We offer American Standard Heating and Air systems, recognized by Consumer Reports as the best system on the market today with regards to future repair costs over a five year period. Quite simply put, that means they are the least likely to need repair vs. all the other name brands on the market today.
Our New Website Provides Great Information
We have also just launched our new website at www.spencerheatingandair.com. Our new site is more than just a few pretty pictures. On our site, you can review all the products we sell from air conditioners and air handlers to ductless systems to Wifi thermostats.
We believe that today's shopper will do as much research as they possibly can before investing in a new HVAC system. We couldn't agree more, and our goal is to provide as much information as possible to help you do your research.
If we've discovered anything in our 50 years of existence its that we would not be in existence if it were not for our great customers. That's why we will always go the extra mile in continuing to build our business around you.
Still Locally Owned and Operated
Spencer Heating and Air is a locally owned and locally operated HVAC contractor serving the Auburn, AL area. We are licensed and insured. We want to be your HVAC contractor for the next 50 years, too.