Halloween Party Ideas
Wanting to host a Halloween party but not sure where to start? Get your creative juices flowing and throw the best Halloween party with these creepy, fun, and delicious ideas!
1. Festive Food
The best way to treat your guests at your Halloween party is with spooky sweets and snacks! 
Nothing is better than themed-foods to take your party to the next level. Not only are these recipes quick and easy, but your guests will love the extra touch to make your Halloween party the best yet!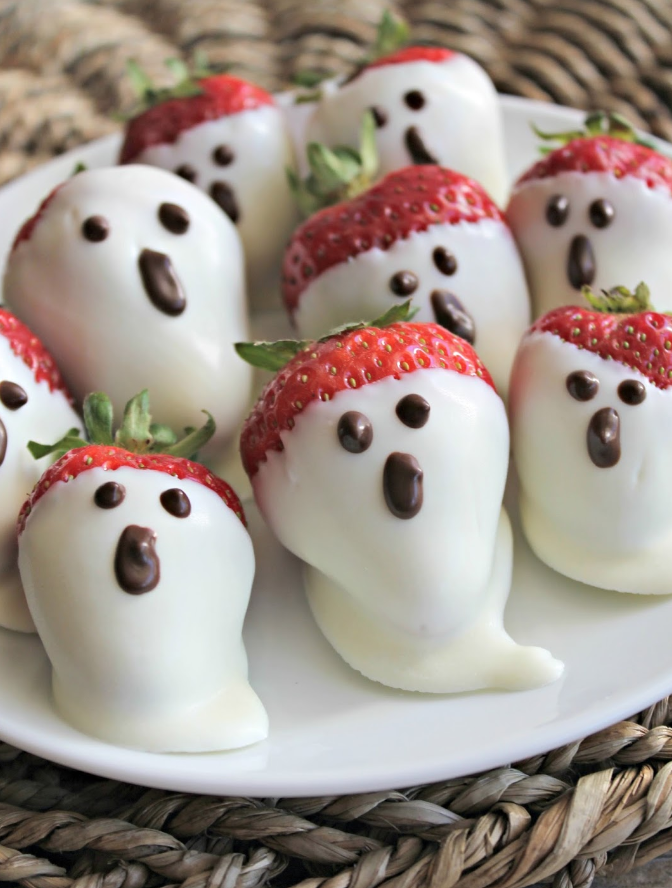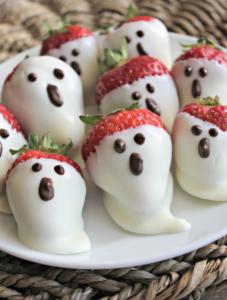 Chocolate-Covered Ghost Strawberries
All you'll need to make these cute, ghost strawberries is some fresh strawberries, white and milk chocolate, and a little time! First, melt the white chocolate in a microwave safe bowl or on your stove-top, stirring frequently so you don't burn your chocolate. Cover the strawberries with the chocolate and let them set in the refrigerator for about 20 minutes. Lastly, use the milk chocolate and get creative making those adorable… I mean scary ghost faces!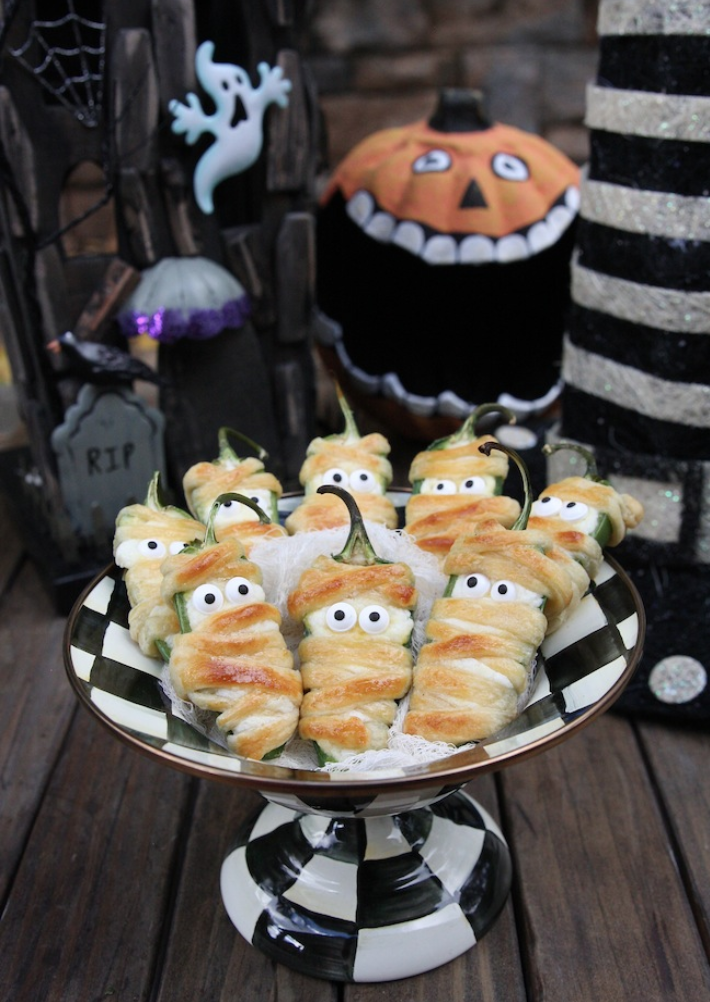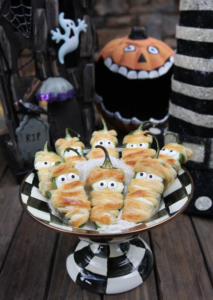 Mummy Jalapeno-Poppers
Spice up your party with delicious mummy Jalapeno-poppers. This is the perfect snack to make your party pop this autumn. Follow this recipe to make the spookiest finger foods this fall: HALLOWEEÑO JALAPEÑO POPPER MUMMIES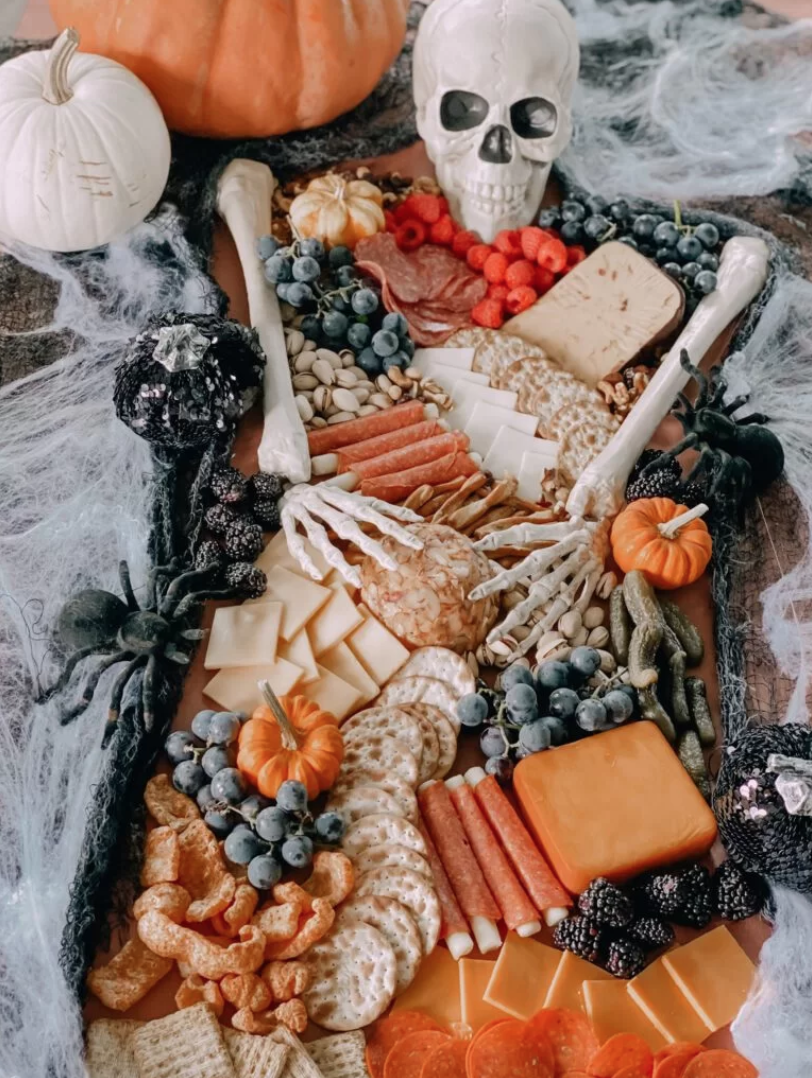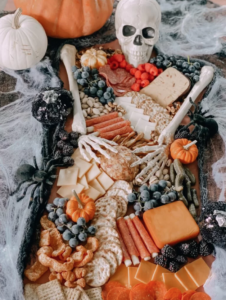 Halloween Charcuterie Board
To keep all your guests happy with lots of options, make a Halloween charcuterie board! Head to your local grocery store and pick up various meats, cheeses, jams, fruit, and crackers. To ensure your board is spooky, add some spiders, pumpkins, and gourds to maintain your Halloween aesthetic. For an extra final touch, place a skeleton head and arms at the top of your charcuterie board and you've got the grooviest… I mean the spookiest Halloween board around! 
2. Home Decor 
Another way to keep your home scary this Halloween is by sprucing it up with some Halloween home decor. Halloween decorations can be a simple, yet nice touch to keep your guests on their toes this spooky season, and they don't have to be tacky. Look below for some simple ways to get your home ready for your party. 

Front Porch Decorations
Start the party on the right foot as soon as your guests arrive. Add an autumn wreath, pumpkins, fall flowers, and a spooky welcome mat to your entry-way. Get your guests excited as soon as they knock on your door.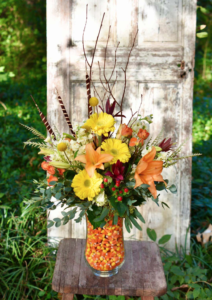 Candy Corn Centerpiece 
When thinking of table set-up for your party, create an inviting candy corn centerpiece. Simply place some candy corn in a clear vase or jar in the center of your tables, then build your own autumn floral arrangements to place in the center of the vases. This will help you maintain a fun and lively Halloween color scheme at your party.
Outdoor Decorations
Want the spooky feel to continue outdoors? Maintain a perfect indoor/ outdoor flow by hanging orange or purple string lights, adding candles inside your carved pumpkins, and placing spiderwebs along the walls outside. Your guests will love these small touches that really make it feel like the Halloween season. 
3. Costume Contest 
Let your guests get creative with a costume party. A costume contest is a great way to have your guests get excited about your party ahead of time. Set up a time where everyone gets to show off their look! Then, let your guests choose their favorite costume. To get the friendly competition going good, pick a unique prize for the winners such as a gift card, sweet treat, fall decoration, or any other gift you and your guests would love! 
4. HVAC Maintenance 
The last thing you want the day of your party is to have heating and air problems. To ensure that your HVAC system is functioning properly and keeping all your guests comfortable at your party, schedule an HVAC maintenance appointment ahead of time to mark one more thing off your to-do list as you prepare for the best Halloween party of the year! 
Contact Us 
During all this party planning and prepping, be sure your HVAC system is running smoothly to ensure you and your guests have a great time at your fall party! Contact us at (334) 887-9020. We are happy to help you all with your HVAC systems in Auburn, Opelika, Dadeville, Lake Martin, and the surrounding areas. 
Spencer Heating & Air is your local American Standard Customer Care Dealer in Auburn, AL. We want you to have the best in home comfort, so we constantly share tips on how to do so. Be the first to know when our blogs are posted by following us on Facebook and Instagram.